From working to connect 450,000 hectares of forest fragments to protect endangered species in Brazil's Atlantic Forest, to planting tens of thousands of indigenous tree seedlings to restore Mount Kenya's forest, Trillion Trees has gone from strength to strength in its first four years.
Since 2016, Trillion Trees partners have been supporting the protection of more than 18.3 billion trees and the restoration of over 1.8 billion trees.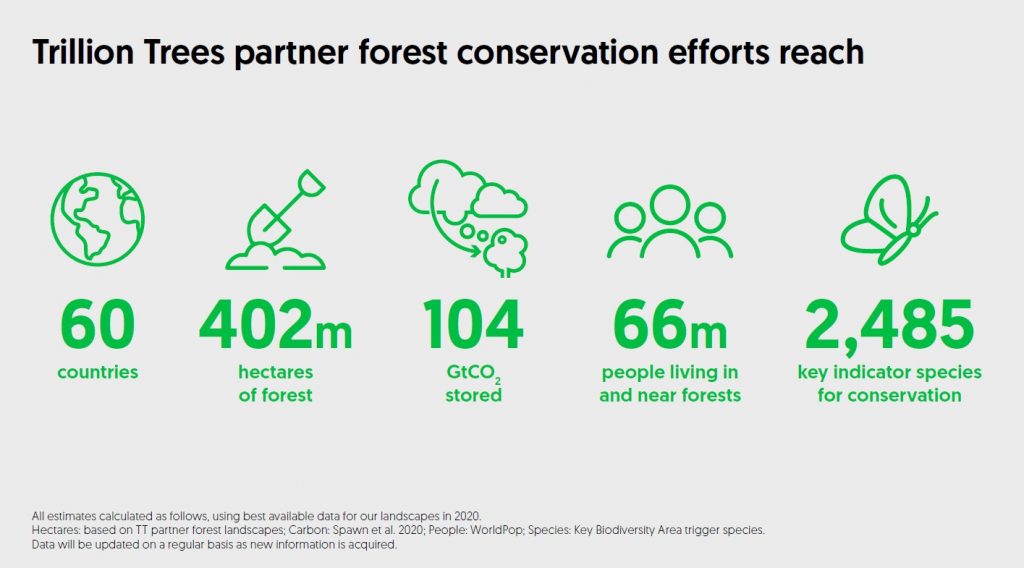 Trillion Trees was forged in 2016 to deliver a world where deforestation has ended. Through the combined strength of our organisations, we can speed up and scale up global efforts to protect and restore forests. Using our combined expertise we're standing on the front line of forest protection and restoration in 60 countries, ready to make an even greater difference for people, climate and nature.
As Trillion Trees pauses to consider our forest impact, the world stands at a pivotal moment. Looking back, we see life utterly changed by the pandemic, and a year that challenged our global conservation aspirations and ways of working together. At the same time, in the coming year, every nation on earth will come together to agree ways to save the planet's biodiversity, restore our ecosystems and to make binding commitments in the final push to stabilise our climate through the Paris Agreement.
This report serves to show that real impact can be achieved, and with continued global investment in forest conservation we can all benefit from the services forests bring to fight the threats of climate change, biodiversity loss, economic inequality, and emerging zoonotic diseases.